The Jonas Brothers rock home video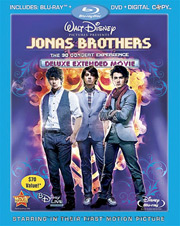 Buena Vista Home Entertainment has just slated the Jonas Brother: The Movie Experience for release on DVD and Blu-Ray Disc this summer.
Grab a backstage pass to the Jonas Brothers' motion picture debut! Kevin, Joe and Nick are "Burning Up" the stage and inviting you inside their personal world for the adventure of a lifetime. This colossal movie event launches the world's hottest band straight into your living room – and includes guest appearances by chart-topping artists Demi Lovato and Taylor Swift! Secure your VIP pass to a once-in-a-lifetime experience with the Jonas Brothers. Get ready to hang out with this multitalented trio, and take an intimate look at what their lives are like offstage and behind the scenes. It's the music-filled movie event perfect for the whole family!
On DVD you can choose from two versions, the first one featuring the original theatrical version of the film on a single-disc DVD, while the second one offers an Extended Version on 2 discs featuring additional songs that were not part of the original theatrical release. Both version will boast anamorphic widescreen transfers with Dolby Digital 5.1 audio. The 2-disc release will also include bonus materials, such as a Behind-the-scene Featurette with the title "Up Close & Personal" and a Digital Copy.
On Blu-Ray Disc you will also be treated to the extended version. The release will feature a 1080p high definition transfer, and complement it with a high definition audio track. The release will will feature the same bonus materials as the 2-disc DVD version, including the Featurette and Digital Copy.
We can already envision the long lines at retail outlets, in anticipation of this cult release, so make sure you place your order early. You can own the DVD version for $29.99, , the DVD Extended version for $34.99 and and the Blu-Ray version for $39.99.