The Uninvited comes to your home in April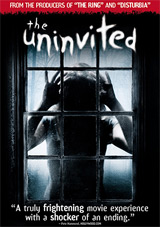 Paramount Home Entertainment has just unveiled details about the impending release of the suspense thriller The Uninvited, scheduled to hit DVD and Blu-Ray Disc in April.
Anna (Emily Browning) is a girl who is driven by her mother's ghost to investigate her untimely death. When her father (David Strathairn) becomes engaged to Rachel (Elizabeth Banks), her mother's former nurse, Anna and her sister (Arielle Kebbel) look into Rachel's past and begin to suspect that she is not what she seems. As horrifying truths are revealed, Anna becomes locked in a deadly battle with a shocking conclusion.
The DVD version will feature an anamorphic widescreen presentation of the movie with a Dolby Digital 5.1 audio track. The release will include an Alternate Ending, a series of Deleted Scenes as well as the behind-the-scenes Featurette "Unlocking The Uninvited".
The Blu-Ray version offers up a 1080p high definition transfer, complemented by a Dolby Digital 5.1 TrueHD audio track. The release will include the same bonus materials as the DVD version, but in this case they will all be presented in high definition also.
"The Uninvited" will make its house calls on April 28 for $19.99 on DVD and $29.99 on Blu-Ray.