Be very afraid of Fanboys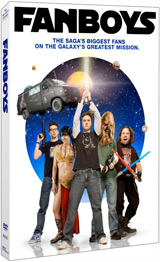 Genius Products has added the 2008 comedy Fanboys by Kyle Newman to their release roster with a May release date attached to it.
In 1998, four childhood buddies with a shared love of all things Star Wars reunite for one final, hilarious odyssey. Their insane plan: a cross-country road trip to storm George Lucas' Skywalker Ranch and steal a copy of Episode I before it's released. With the police, a crew of angry Trekkies, and an crazy pimp hot on their trail, what could possibly go wrong?
The hilarious film that shows us to what extremes geekiness can go will arrive on May 19 for only $19.98.