You'll see the coolest Bedtime Stories in April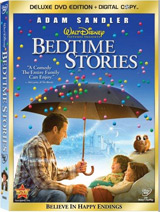 Walt Disney Home Entertainment has added the Adam Sandler comedy Bedtime Stories to their April line-up, bringing the film to DVD and Blu-Ray Disc.
As a handyman at the hotel his father used to own, Skeeter Bronson (Adam Sandler) spends his days changing light bulbs and competing with the hotel's smarmy manager (Guy Pearce) for the attention of the new owner's beautiful, hard-partying daughter, Violet (Theresa Palmer). When his sister Wendy (Courteney Cox) asks Skeeter to babysit her kids for a week while she's out of town, Skeeter entertains his niece and nephew with elaborate, original bedtime stories that transport them to exotic locales, including ancient Greece, the Wild West and outer space. When he tries to help his family by telling one outlandish tale after another, it's the kids' unexpected contributions that turn all of their lives upside down. Full of imaginative special effects and good-natured hilarity, "Bedtime Stories" is a winning combination of comedy and adventure.
There will be a single-disc DVD version of the movie available, featuring only the feature film with no extras.
The 2-disc DVD set that will also be released will offer the movie as well as a number of bonus materials, such as the Featurette "Until Gravity Do Us Part" that gives viewers behind-the-scenes look at the film's special effects. Also included is "It's Bugsy", a close up look at the breakout star of Bedtimes Stories, Bugsy the big-eyed guinea pig, as well as "To All The Little People" and a selection of Bloopers and Deleted Scenes.
The Blu-Ray version will feature all of the same extras, as well as a separate, third disc containing a Digital Copy of the movie.
"Bedtime Stories" arrives in stores on April 7 and can be yours for $29.99 on single-disc DVD, $32.99 as the 2-disc DVD and $39.99 for the 3-disc Blu-Ray set.