Universal brings around the Milk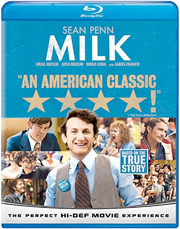 Universal Home Entertainment has announced Milk for release on DVD and Blu-Ray Disc very shortly.
Academy Award ® winner Sean Penn stars in this stirring celebration of Harvey Milk, a true man of the people. Based on the inspiring true story of the first openly gay man elected to major public office, this compelling film follows Milk's powerful journey to inspire hope for equal rights during one of the least tolerant times of our nation's history.
The release will offer up Deleted Scenes as well as the Featurette "Remembering Harvey", filled with film clips and photos from the set of "Milk" to illustrate stories and reflections from people close to Harvey: Cleeve Jones, Daniel Nicoletta, Frank Robinson, Carol Ruth Silver, Anne Kronenberg and Allan Baird. Also included is the on-set Featurette "Hollywood comes to San Francisco", in which cast and crew members discuss the development of the script, making of the film and share stories from the set.
"Marching for Equality" is another featurette on the release, taking a look at all the people on hand for the shooting of the march sequences (including Gilbert Baker, Cleeve Jones, and Daniel Nicoletta) discuss the shoot and remember the marches of the 1970s.
The Blu-Ray version will also contain BD Live feature, giving viewers access to additional Internet-hosted content.
"Milk" arrives on March 10 and will have a $29.98 sticker price on the DVD version and a $39.98 price tag for the Blu-Ray version.