True Blood arrives in high definition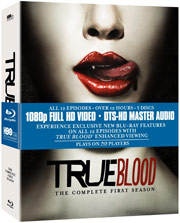 HBO Home Entertainment has just added a Blu-Ray set of True Blood: The Complete First Season to their release line-up, scheduling the title for May.
"True Blood" chronicles the backwoods Louisiana town of Bon Temps…where vampires have emerged from the coffin, and no longer need humans for their fix.
Sookie Stackhouse (Anna Paquin) works as a waitress at the rural bar Merlotte's. Though outwardly a typical young woman, she keeps a dangerous secret: she has the ability to hear the thoughts of others. Her situation is further complicated when the bar gets its first vampire patron – 173-year old Bill Compton (Steven Moyer) – and the two outsiders are immediately drawn to each other.
The 5-disc Blu-Ray set of "True Blood" will seduce you in high definition on May 18 for $79.98.