Tom And Jerry's Greatest Chases continue in June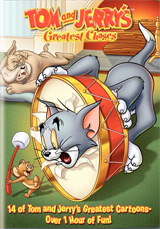 Warner Home Video has added Tom And Jerry's Greatest Chases: Volume 2 to their release line-up, scheduling the DVD for a June release.
Tom and Jerry Greatest Chases Volume 2 features 14 shorts directed by Hanna-Barbera that were originally released between 1943 and 1951.  Two featured shorts, including Mouse Trouble (originally released in 1944) and Quiet Please! (originally released in 1945) became Oscar® winners for Best Short Subject, Cartoons in 1945 and 1946, respectively. Other shorts featured on the DVD include Sufferin' Cats!, Baby Puss, The Million Dollar Cat, The Bodyguard, Flirty Birdy, Cat Fishin', The Invisible Mouse, Heavenly Puss, Jerry and the Goldfish, Cue Ball Cat, Slicked-up Pup and Jerry's Cousin.
The DVD will be in stores on June 16 for $14.97.