The IT Crowd will take care of your computer in April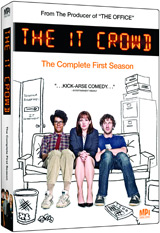 MPI Home Entertainment has added The IT Crowd: The Complete First Season to their release line-up, tagging an April release date on the DVD version.
Roy and Moss are your standard IT nerds – except funnier.  They argue constantly, get things badly mixed up, and set things on fire.  But all they really want is to hang around with the cool people upstairs for just once in their lives.  Jen is their boss, who thought she was applying for a job "upstairs".  But due to lying on her resume about being good with computers, she has found herself working in the basement.  She knows nothing about IT, and cares even less.  But gradually, she becomes part of the world of Roy and Moss.  She treats them like children, because that is how they act.  And they treat her like a woman, because she is the only one they know.
All 6 episodes of the show will be included on the DVD, as well as the "Behind The IT Crowd" Featurette, the Short Film "Hello Friend", and Deleted Scenes.
"The IT Crowd" will come to a company near you on April 7 for only $24.98.