The Good, The Bad And The Ugly make it to high definition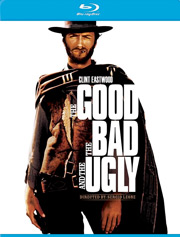 Personally, this is a release I can't wait to get my hands on, as MGM Home Entertainment has just added a Blu-Ray version of Sergio Leone's wonderful The Good, The Bad And The Ugly to their May line-up.
By far the most ambitious, unflinchingly graphic and stylistically influential western ever mounted, "The Good, The Bad And The Ugly" is an engrossing actioner shot through with a volatile mix of myth and realism.
Clint Eastwood returns as the invincible "Man With No Name," this time teaming with two gunslingers (Lee Van Cleef and Eli Wallach) to pursue a fortune in stolen gold. But teamwork doesn't come naturally to such strong-willed outlaws, and they soon discover that their greatest challenge may be to stay focused – and stay alive – in a country ravaged by war. Forging a vibrant and yet detached style of action that had not been seen before, and has never been matched since, "The Good, The Bad And The Ugly" shatters the western mold in true Clint Eastwood style!
The Blu-Ray version will feature the completely restored European version of the film with 18 minutes of footage re-inserted into the movie. Presented in 1080p with a high definition audio track, this release will be a must have for all Western fans and will most likely wow viewers with its spectacular vistas in high definition. Although not announced yet, expect to see all the bonus materials from the previously released DVD Collector's Edition on this release also.
"The Good, The Bad And The Ugly" will face off against each other on May 12 for only $29.99.