Tango & Cash get roughed up in April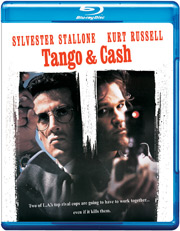 Warner Home Video is adding a number of catalog titles to their Blu-Ray line-up, as they schedule the Sylvester Stallone and Kurt Russell action comedy Tango & Cash for release in April.
Ray Tango (Sylvester Stallone) and Gabe Cash (Kurt Russell) are rival L.A. policemen with one thing in common: each thinks he is the best. Team them and they're like oil and water. But frame them for a crime and they're like a match and kerosene. Unjustly jailed among lowlifes they put behind bars, the two stage a prison breakout thats a breathless rush of weapons and wisecracks then roar after the shadowy crime lord (Jack Palance) who set them up. Tango & Cash are out to clear their names. Join them and feel the rush.
The release will feature a 1080p high definition transfer of the movie and supplement it with a Dolby Digital 5.1 TrueHD audio track. The only extra included in the release is the movie's Theatrical Trailer.
"Tango & Cash" comes to Blu-Ray on April 7 for $28.99.