Secrets Of The Furious Five goes solo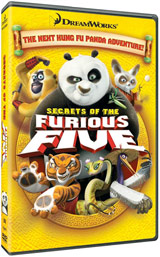 If you haven't had the chance to get your hands on thew "Kung Fu Panda" spin-off, Secrets Of The Furious Five when it was released as single-pack with the feature film, Paramount Home Entertainment now offers you the chance to purchase the film individually.
Skadoosh!! This is Po's all-new adventure from the filmmakers that brought you "Kung Fu Panda!" He may have defeated the ferocious Tai Lung, but our Dragon Warrior (Jack Black) must now face Shifu's (Dustin Hoffman) biggest challenge with the help of Viper, Tigress, Monkey, Crane and Mantis. The Secrets of the Furious Five are finally revealed as we discover it takes a lot more then fast feet and fists to become a kung fu master.
The DVD will offer up the film with 5.1 Dolby Digital audio and will also contain a number of extras, such as the Featurettes "Learn To Draw," "Dumpling Shuffle," Learn The Panda Dance," "Do You Kung Fu?", "Inside the Chinese Zodiac," "Animals of Kung Fu Panda" and "What Fighting Style Are You?".
Also included is a DVD-Rom section with a Pandemonium Activity Kit.
"Secrets Of The Furious Five" comes into its own on March 24 .