S. Darko: A Donnie Darko Tale reveals itself in April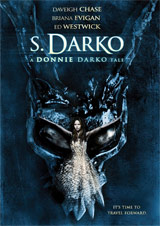 20th Century Fox Home Entertainment has scheduled the release of S. Darko: A Donnie Darko Tale on DVD and Blu-Ray Disc this April.
Seven years after her brother's death, Samantha Darko finds herself stranded in a small desert town after her car breaks down where she is plagued by bizarre visions telling of the universe's end. As a result, she must face her own demons, and in doing so, save the world and herself.
The 103-minute sequel to the critically acclaimed "Donnie Darko" will arrive in widescreen with a 5.1 Dolby Digital audio track on DVD, while the Blu-Ray version will feature a DTS 5.1 HD Master Lossless Audio track and a 1080p high definition transfer. No bonus materials have been announced yet for the film but should be forthcoming very shortly.
"S. Darko" will make its way to stores on April 28 for $22.99 on DVD and $29.99 on Blu-Ray Disc.