Robin Hood: Prince of digital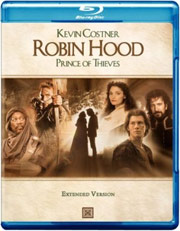 I confess that I purchased Robin Hood: Prince of Thieves ten years ago, not so much as a fan of the film, but because the pretty girls I knew were – and I was the only one with a DVD player at the time. Flash forward, I may have to pick up the film when Warner Home Video releases it on Blu-ray in a few weeks. After all, I still know pretty girls.
After being captured by Turks during the Crusades, Robin of Locksley and a Moor, Azeem, escape back to England where Azeem vows to remain until he repays Robin for saving his life. Meanwhile, Robin's father has been murdered by the Sheriff of Nottingham and when Robin returns home he vows to avenge his father's death. Even though Marian, his childhood friend, cannot help him, he escapes to the Forest of Sherwood where he joins a band of exiled villagers and becomes their leader. With their help he attempts to cleanse the land of the evil that the Sheriff has spread.
The film will come on a BD-50 disc with a 5.1 Dolby TrueHD audio track and will arrive with plenty of extras including two Audio Commentaries, Interviews, a Documentary, the Bryan Adams Music Video, Several Trailers and Music Cues.
"The Prince of Thieves" arrives in high definition on May 26th for $28.99.