Paramount gives you a Paycheck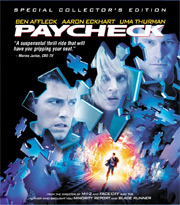 Paramount Home Entertainment has just added a Blu-Ray version of the sci-fi thriller Paycheck to their line-up, scheduling the title for a May release.
Based on the short story by science fiction author Phillip K. Dick, in a futuristic but familiar world, a high-tech engineer whose memory has been partially erased must use a group of unrelated objects, including a wire, a ticket stub and a bus token as clues to discover the truth about his previous identity, and collect a paycheck he had been awaiting.
The release will serve up a 1080p high definition transfer of the film, complemented by a Dolby Digital 5.1 TrueHD audio track, as well as a Dolby Digital EX track. The release will include a Commentary Track by director John Woo, as well as a separate Commentary Track by screenwriter Dean Georgaris.
Further you will find 7 Deleted Scenes on the disc, together with the Featurettes "Paycheck and "Tempting Fate".
This "Paycheck" will be delivered on May 19 for $29.99.