Michael Douglas is Falling Down on Blu-Ray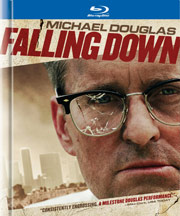 Joel Schumacher's intense drama about a man snapping in the face of his own depression, Falling Down is making its high definition debut in May from Warner Home Video.
Freeways are clogged. Terror stalks our cities. At shops and restaurants, the customer is seldom right. Pressures of big-city life can anger anyone. But Bill Foster( Michael Douglas) is more than angry. Hes out to get even.
Foster abandons his gridlocked car license plate D-FENS on the hottest day of the year and walks straight into an urban nightmare both absurdly funny and shatteringly violent. Academy Award winner Michael Douglas is Foster, an ordinary guy at war with the frustrations of daily life. Fellow Oscar winner Robert Duvall is the savvy cop obsessed with stopping Fosters citywide rampage. This spellbinding thriller is their story, asking "Are we falling apart?"
Featuring a 1080p high definition transfer and high definition audio, "Falling Down" will also contain a Commentary Track by Michael Douglas and Director Joel Schumacher and the Interview Featurette "Deconstructing D-Fens: A Conversation with Michael Douglas." The release will also contain the movie's Theatrical Trailer and come in a special case that also contains a booklet with production information.
"Falling Down" arrives on May 26.