Lionsgate takes Punisher to the War Zone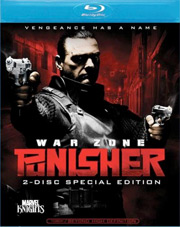 Lionsgate Home Entertainment has added a DVD and Blu-Ray Disc version of Punisher: War Zone to their line-up, scheduling the film for release in March.
Waging his one-man war on the world of organized crime, ruthless vigilante-hero Frank Castle (Ray Stevenson, HBO's "Rome") sets his sights on overeager mob boss, Billy Russoti (Dominic West, HBO's "The Wire").  After Russoti is left horribly disfigured by Castle, he sets out to seek vengeance under his new alias:  Jigsaw.  With the "Punisher Task Force" hot on his trail and the FBI unable to take Jigsaw in, Frank must stand up to the formidable army that Jigsaw has recruited before more of his evil deeds go unpunished.
The film will arrive as a single-disc DVD without bonus features, as well as a 2-disc DVD set that includes multiple Featurettes examining all elements of the making of the movie. Also included is a Commentary Track and the movie's Theatrical Trailer..
The Blu-Ray version will also contain the all the features of the 2-disc DVD but in addition to those, include also a BD Live application that allows users to insert and animate shapes, text, audio and other graphics right into the film as well as post "blogs" about the film to share with other users.
"Punisher: War Zone" will make some noise on March 17 for $29.95 and $34.98 on DVD respectively, or $39.99 on Blu-Ray.