Lions For Lambs comes to Blu-Ray in May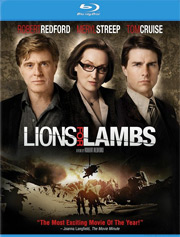 MGM Home Entertainment has included the thriller Lions For Lambs to their release line-up, scheduling the Blu-Ray Disc version of the movie for a May release.
Robert Redford, Meryl Streep and Tom Cruise deliver the goods in this powerful, provocative thriller that explores the consequences of taking a stand. An idealistic professor (Redford) in California attempts to inspire a student to do more with his life, while a charismatic Senator (Cruise) in Washington, D.C. pitches a new Middle East war strategy to a probing TV journalist (Streep). And halfway across the world, two of the professor's former students are trapped behind enemy lines in Afghanistan, fighting for freedom – and their very lives. As the tension mounts and the bullets fly, these Americans will change each other's live and the world in ways they never could have imagined.
OFfering a 1080p high definition transfer of the movie and supplementing it with a DTS 5.1 HD Master Lossless Audio track, the disc will also contain the extras found on the previous DVD release. As such, look for a Commentary Track featuring Robert Redford, as well as a Making Of Featurette. In addition you will find a Script-To-Screen Featurette and a UA Legacy Retrospective on the disc, as well as the movie's Theatrical Trailer.
"Lions For Lambs" comes to Blu-Ray on May 19 for $34.99.