Into The Blue 2 arrives in April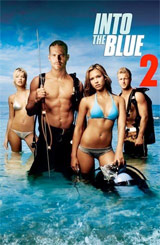 MGM Home Entertainment has just announced a DVD version of Into the Blue 2: The Reef for release in April.
Ride the wave of extreme ocean adventure as "Into the Blue 2: The Reef"  tells the white-knuckle tale of scuba divers Sebastion (Chris Carmack) and Dani (Laura Vandervoort), a sexy couple thrown into precarious waters when they are promised big money in exchange for leading dives along a treacherous Hawaiian reef. At the hands of dubious clients, the young couple is plunged into danger and an ultimate test of their diving skills, as well as their love, strength –and will to live.
The release will feature an anamorphic widescreen transfer, complemented by a dolby Digital 5.1 audio track and also contain the Featurettes "All Wet and "Run For Your Life." The "Back To The Beach" Music Video will also be included on the disc.
" Into the Blue 2: The Reef" will be in stores on April 21 with a $26.98 suggested retail price.