Here are the details about Hellraiser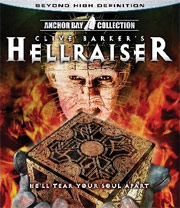 As announced earlier, Anchor Bay Entertainment is planning a Blu-Ray release of Clive Barker's seminal film Hellraiser and finally we have been able to get our hands on the details, as well as info on the DVD version.
n 1986, critically acclaimed and celebrated author Clive Barker directed his first feature film which has since become a horror classic. Clive Barker's "Hellraiser" introduced some of the most frightening and sophisticated images of horror to ever grace the silver screen.
No film has ever gripped the imagination so shockingly nor presented such nightmarish characters, deeds, monsters, and ideas which go so far beyond the realm of horror fimmaking and fiction.
Arriving as a Limited Edition DVD box set the release will come in a custom, commemorative packaging that resembles the Lament Configuration, the infamous box from which the horrors of "Hellraiser" emerge, and contains both 20th-anniversary DVD special editions of "Hellraiser" and "Hellbound: Hellraiser II."
More interestingly, however, "Hellraiser" also arrives on Blu-Ray with a sizzling 1080p high def transfer that will boggle your mind, and a high definition audio presentation. The disc will arrive in a packaging with a specially reflective foil slipsheet and inlcude Commentary Tracks, Retrospective Interviews and ,b>Vintage Featurettes.
Further the release includes Trailers and Teasers and number of additional goodies for Hellraiser fans that Anchor Bay will leave up to you to uncover.
"Hellraiser: Limitied Edition Box Set" will be in stores on Apil 21 for $59.97, while the Blu-Ray version will arrive on the same day for $29.97.