Galaxy Quest returns to DVD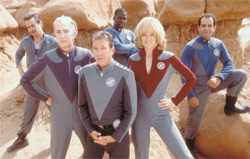 Some of you may remember the science fiction spoof GalaxyQuest from Dreamworks Home Entertainment, that flickered across screens in 2000. The hilarious film is now coming back to DVD as a Deluxe Edition.
For four years, the courageous crew of the NSEA protector – "Commander Peter Quincy Taggart" (Tim Allen), "Lt. Tawny Madison (Sigourney Weaver) and "Dr.Lazarus" (Alan Rickman) – set off on a thrilling and often dangerous mission in space…and then their series was cancelled! Now, twenty years later, aliens under attack have mistaken the Galaxy Quest television transmissions for "historical documents" and beam up the crew of has-been actors to save the universe. With no script, no director and no clue, the actors must turn in the performances of their lives.
The release will feature anamorphic widescreen transfer and come with Dolby Digital 5.1 audio tracks in a variety of languages, including a Thermain track – the language of the aliens in the film.
A number of new bonus materials will be included in the release in the form of a number of Featurettes, such as "Historical Documents", offering up info about the story of Galaxy Quest. Also included is "Never Give Up. Never Surrender", a look at the intrepid crew of the NSEA Protector, as well as " Alien School", offering up a look at how the Thermian race was created for the film. Other featurettes are "By Grabthar's Hammer, What Amazing Effects," "Actors in Space," and "Sigourney Raps.". You will also find some of the bonus materials form the previous DVD version on the release, including the Deleted Scenes and the Thermian Audio Track. The disc is rounded out by a the movie's Theatrical Trailer.
"Galaxy Quest" will get underway again on May 12 for only $14.99. Interestingly, no high definition version has been announced.