Fracture takes you on a roller-coaster ride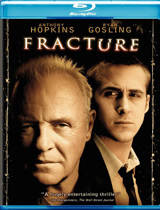 New Line Home Entertainment has just added a Blu-Ray version of the thriller Fracture to their line-up with a June release date.
Ted Crawford (Anthony Hopkins) brutally murders his wife and calmly waits for the police to arrest him. With the weapon and a signed confession in hand, Deputy D.A. Willy Beachum (Ryan Gosling), believes a conviction is a slam dunk; that is until the case completely unravels. Now, with little evidence, Beachum goes head to head with the cunning Mr. Crawford in a desperate search for the truth and the answer to one burning question: How is this guy getting away with it?
The release will offer a 1080p high definition transfer with high definition audio and will also include 2 Alternate Endings and Additional Scenes.. Also included is the movie's Theatrical Trailer in high definition.
"Fracture" arrives full force on June 16 with a $28.99 sticker price.