Classic Hercules movies arrive in a pack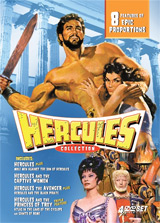 Image Entertainment has just added a 4-disc DVD box set to their release line-up, featuring eight classic Hercules movies in all their sun-tanned glory.
Get ready for a bevy of buxom Amazons, hideous ape men and gigantic dragons! When the incomparable Steve Reeves was cast as the mythic muscleman Hercules in 1958, a screen icon and an entire film genre was born!
Then Mark Forest stars in Mole Men Against The Son Of Hercules. Maciste (Forest) goes underground to discover the terrifying kingdom of the Mole Men, who are ruled over by the beautiful but wicked Queen Alismoyab (Moira Orfei). Also starring body builder Paul Wynter, this is one of the wildest and weirdest of the Italian beefcake fests.
In Hercules The Avenger, Reg Park returns as the mythological son of Jove who undertakes a journey into the nether regions battling zombies and monsters along the way to rescue his son.
Then it's the fantastic Hercules And The Black Pirate, a weird time-travel adventure a la "The Witch's Curse."
Hercules and Androcles (Ettore Manni), the King of Thebes, venture to Atlantis, where an evil queen (played by cult favorite Gay Spain) has hatched a diabolical plan for world domination in Hercules And The Captive Women.
And Manni is reunited with Reg Park in Hercules, Prisoner Of Evil. Helmed by famed Euro-horror director Anthony Dawson (aka Antonio Margheriti), an evil sorceress seduces Hercules and turns him into a terrifying monster in this film that combines the best elements of both horror and Sword and Sandal genres.
Starring as Hercules in Hercules And The Princess Of Troy is Gordon Scott, who after appearing in several films as Tarzan, became one of the most popular and prolific of the Sword and Sandal stars.
In the muscle-bound saga Atlas In The Land Of The Cyclops, Gordon Mitchell (in his film debut) must battle an evil queen (the sexy Chelo Alonso) to save a baby descended from Ulysses.
This set also includes an extra-brawny bonus feature starring Richard Harrison: Giants Of Rome.
The Hercules Collection will be available in stores on March 31 for only $19.98