Warner adds American History X to Blu-Ray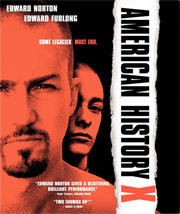 News just came in that Warner Home Video is adding the terse thriller American History X to their Blu-Ray line-up in March.
Derek Vinyard is dangerous, a coiled fury of hate who leads a neo-Nazi gang. But time and events start to change him. He reassesses his ways while doing time for manslaughter and emerges from prison eager to keep his younger brother (Edward Furlong) from falling victim to the thug cycle of violence and payback. It may be too late.
Weaving in and out of events past and present in Derek's life, "American History X" is revealing in its look at white-supremacist gangs and impassioned in its message that hatred and bigotry can be unlearned. Edward Norton portrays Derek, giving a powerful, persuasive, Oscar®-nominated* performance.
The release will feature an 1080p high definition transfer and Dolby Digital 5.1 TrueHD audio track. As extras you will find Additional Scenes and a comprehensive Making-of Documentary, "Humpty Dumpty and the Kaballah" on the disc. The release is rounded out by a high definition version of the movie's Trailer.
"American History X" will make its mark in high definition on April 7 for $28.98.