Voyage To The Bottom Of The Sea enters Season 4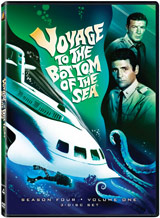 Continuing the series on DVD, 20th Century Fox Home Entertainment has added Season 4 volume 1 of the classic TV series Voyage To The Bottom Of The Sea to their release line-up.
As this ground-breaking action-adventure series went into its final season, the unparalleled genius of producer Irwin Allen kicked into creative overdrive, resulting in some of the greatest science-fiction television of all time. From rampaging gorillas and diabolical puppet masters to time-travelling androids and interplanetary kidnappings, this is the show that defined the genre, setting new standards for suspense, vision, and imagination. Now, join Admiral Nelson, Captain Crane and the rest of the crew aboard the Seaview, the Earth's most powerful nuclear submarine, and dive deep into the unknown in this penultimate volume of "Voyage to the Bottom of the Sea."
The 3-disc DVD set will include the first 13 episodes of the show's fourth season in their original fullframe aspect ratio. No bonus materials will be included.
"Voyage To The Bottom Of The Sea: Season 4 Volume 1" will be in stores on March 1 with a $39.98 sticker price.