Universal unleashes Street Fighter in high definition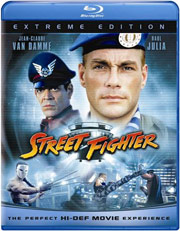 Universal Home Entertainment has just unveiled details about a Street Fighter: Extreme Edition arriving on DVD and Blu-Ray Disc in February.
Jean-Claude Van Damme is Colonel Guile, the Allied Nations commando who leads an elite team of street fighters against the forces of the mad General M. Bison (Raul Julia). Bison, who has hatched an evil plan for world domination, takes dozens of relief workers hostage and gives the world only 72 hours to respond to his twisted demands. In that time, Guile must find the captives and confront Bison in an electrifying battle for the fate of the free world. 
The release will be stuffed with bonus materials and the DVD version will contain The Making Of Street Fighter as well as a series of Outtakes and Deleted Scenes.
Also included are Storyboard Sequences and footage form the video games in Video Game Sequences, as well as a Photo Gallery. Trailers and a Commentary Track by director Steven De Souza will round out the release.
The Blu-Ray version of this film will feature a 1080p high definition transfer and a DTS 5.1 HD Master Audio track, and will contain all of the DVD's bonus materials. In addition the release will contain a BD Live feature that gives you access to additional online content.
The "Street Fighter: Extreme Edition" will be on store shelves on February 10 for $19.98 on DVD and $29.98 on Blu-Ray Disc.