Universal releases Role Models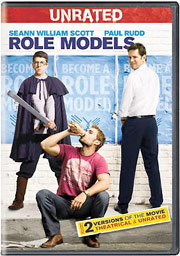 Universal Home Entertainment has added Role Models to their release line-up, scheduling the film on DVD and Blu-Ray Disc for March.
Danny and Wheeler are two salesmen who trash a company truck on an energy drink-fueled bender. Upon their arrest, the court gives them a choice: do hard time or spend 150 service hours with a mentorship program. After one day with the kids, however, jail doesn't look half bad. Surrounded by annoying dogooders, Danny struggles with his every neurotic impulse to guide Augie (Christopher Mintz-Plasse) through the trials of becoming a man. Unfortunately, the guy just dumped by his girlfriend (Elizabeth Banks) has only sarcasm to offer a bashful 16-year-old obsessed with medieval role play. Meanwhile, charming Wheeler tries to trade in an addiction to partying and women to assist a fifth-grader named Ronnie (Bobb'e Thompson) redirect his foulmouthed ways. It would probably help if Ronnie's new mentor wasn't an overgrown adolescent whose idea of quality time includes keggers in Venice Beach. Once the center's ex-con director (Jane Lynch) gives them an ultimatum, Danny and Wheeler are forced to tailor their brand of immature wisdom to their charges. And if they can just make it through probation without getting thrown in jail, the world's worst role models will prove that, sometimes, it takes a village idiot to raise a child.
The DVD version will offer Bloopers, Deleted Scenes and Alternative Takes as well as a Making-of Featurette. Also included is the Featurette "Game On: Creating A Role Playing World", offering up a detailed look at The Laire Event, including fight choreography, costumes, L.A.R.P.ing (Live Action Role Playing) and numerous behind-the-scenes moments with the cast and the extras.
Next up is a look at the improvisational side of the cast in the Featurette "In-character & Off-script", as well as a Commentary Track with director and co-writer David Wain.
The Blu-Ray version will feature all of the aforementioned bonus features, all presented in high definition, but will further come with over 20 minutes of Additional Deleted Scenes, a Picture-in-picture Video Commentary and BD Live to give you access to additional online content and an Extended Look at Jane Lynch's hilarious portrayal of "Sturdy Wings" director Sweeny, as well as your ability to create your own coat-of-arms in Ye Old Crest Maker.
"Role Models"comes to real life on March 10 and can be yours for $29.98 on DVD, and $39.98 on Blu-Ray Disc.