The Kite Runner comes to Blu-Ray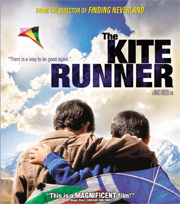 Dreamwork Home Entertainment and Paramount Home Entertainment has added a Blu-Ray version of the film The Kite Runner to their March release line-up.
Amir is a young Afghani from a well-to-do Kabul family; his best friend Hassan is the son of a family servant. Together the two boys form a bond of friendship that breaks tragically on one fateful day, when Amir fails to save his friend from brutal neighborhood bullies. Amir and Hassan become separated, and as first the Soviets and then the Taliban seize control of Afghanistan, Amir and his father escape to the United States to pursue a new life. Years later, Amir – now an accomplished author living in San Francisco – is called back to Kabul to right the wrongs he and his father committed years ago.
The release will feature a 1080p high definition transfer with Dolby Digital 5.1 TrueHD audio and a number of bonus materials. Among these extras is a Commentary Track with Marc Forster, Khaled Hosseini and David Benioff. Also included are Images From The Kite Runner and Words From The Kite Runner, as well as a Public Service Announcement with Khaled Hosseini and the movie's Theatrical Trailer in high def.
"The Kite Runner" will be in stores on March 24 .