Rounders celebrate their 10th Anniversary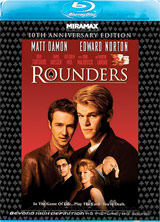 Buena Vista Home Entertainment has just added Rounders: 10th Anniversary Edition to their release line-up on DVD and Blu-Ray Disc.
Academy Award winner Matt Damon and Edward Norton star in this story of passion, risk and the extreme price of friendship! After losing a high-stakes card game Mike (Matt Damon) gives up gambling for law school and a fresh start with his girlfriend (Gretchen Mol). But then his best buddy (Edward Norton) gets out of prison and in over his head with a ruthless card shark (John Malkovich). From there, Mike's string sense of loyalty 0 and the lure of the game – draws him back to the tables in a game he cannot afford to lose! Also starring John Turturro and Oscar winner Martin Landau.
At this time no detailed specs or bonus material have been announced but we will, of course, keep you posted as new info comes in. "Rounders" can be yours on April 14 for $19.99 on DVD, or $34.99 on Blu-Ray.