Ready for a bit of Sin City?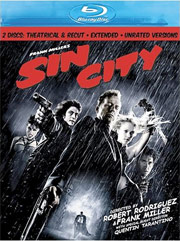 Buena Vista Home Entertainment has added a Blu-Ray version of Sin City to their release line-up, scheduling the eagerly awaited title for April.
The acclaimed hit from director Robert Rodriguez delivers stories straight from the pages of Frank Miller's hip series of Sin City graphic novels…and stars Bruce Willis, Jessica Alba, Mickey Rourke, Jaime King, Clive Own, Brittany Murphy, Rosario Dawson, Devon Aoki, Alexis Bledel, Benicio Del Toro, Elijah Wood, Nick Stahl, Michael Madsen, Carla Cugino and Michael Clarke Duncan.
Arriving as a 2-disc set, the release will contain the theatrical cut of the film as well as the unrated Director's Cut and be chock full with over 6 hours of bonus materials.
The disc with the theatrical version will include a 1080p high def transfer with a DTS 5.1 HD Master Lossless audio track, as well as a Commentary Track by Directors Robert Rodriguez and Frank Miller, and a second Commentary Track by Bruce Willis, Director Robert Rodriguez, and Guest Director Quentin Tarantino.
Also included is an all-new Cine-explore Feature and a series of Featurettes with titles such as "Austin, Texas Audience Reaction Track," "How it Went Down: Convincing Frank Miller to Make the Film," "Special Guest Director: Quentin Tarantino," "A Hard Top With A Decent Engine: The Cars of Sin City," "Booze, Broads & Guns: The Props of Sin City," "Making the Monsters: Special Effects Make-up," "Trench Coats & Fishnets: The Costumes of Sin City" and a Sin-Chroni-City Interactive Feature. 2 Theatrical Trailers will round out this disc.
The second disc, featuring the Recut version of the movie will also arrive with a DTS 5.1 HD Master Lossless Audio track and contain an all-new Kill-Em Good Interactive Comic Bookand another set of Featurettes, such as "The 15 Minute Flick School," "The Movie in High-Speed Green Screen- All Green Screen Version", "The Long Take" and "Sin City Live in Concert." Robert Rodriguez' famed 10 Minute Cooking School will also be included on this disc.
"Sin City" will finally arrive on Blu-Ray Disc on April 21 with a $35.99 sticker price.