Changeling bows in February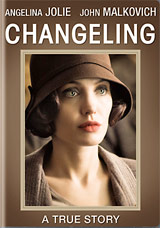 Universal Home Entertainment has just added Clint Eastwood's latest movie Changeling to their release line-up, bringing the film to DVD and Blu-Ray Disc in February.
Los Angeles, 1928. When single mother Christine Collins (Angelina Jolie) leaves for work, her son vanishes without a trace. Five months later, the police reunite mother and son; but he isn't her boy.
Driven by one woman's relentless quest for the truth. The case exposes a world of corruption, captivates the public and changes LA forever.
The release will feature two Featurettes entitled "Partners in Crime: Clint Eastwood and Angelina Jolie" and "The Common Thread: Angelina Jolie Becomes Christine Collins." Other bonus materials may yet to be announced.
You can witness "Changeling" on February 17 for $29.99 on DVD or $39.99 on Blu-Ray Disc.