Cadillac Records makes its debut in March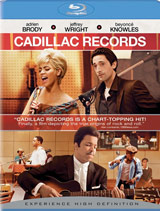 Sony Pictures Home Entertainment has added Cadillac Records to their March line-up on both DVD and blu-Ray Disc.
"Cadillac Records" chronicles the rise of Leonard Chess' (Adrien Brody) Chess Records and its recording artists including Muddy Waters (Jeffrey Wright), Little Walter (Columbus Short), Chuck Berry (Mos Def), Willie Dixon (Cedric The Entertainer) and the great Etta James (Beyonce Knowles). In this tale of sex, violence, race and rock and roll in Chicago of the 1950s and 60s, the film follows the exciting but turbulent lives of some of America's greatest musical legends.
The DVD version offers an anamorphic widescreen version of the film with Dolby Digital 5.1 audio. As extras you will find a Commentary Track with Writer/Director Darnell Martin on the disc, as well as a selection of Deleted Scenes and the Featurettes "Playing Chess: The Making of Cadillac Records" and "Once Upon a Blues: Cadillac Records by Design".
The Blu-Ray version, offering up a 1080p high definition transfer and a Dolby Digital 5.1 True HD audio track will also contain the same extras. In addition this version will also include The Chess Record Player, an interactive feature that allows you to create playlists and share them, featuring songs from the movie.
"Cadillac Records" will be in stores on March 10 for 27.95 on DVD and $39.95 on Blu-Ray.