Australia is coming to America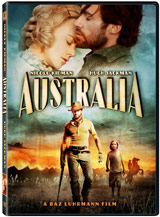 Baz Luhrmann's Australia didn't quite have the impact 20th Century Fox was hoping for, but the DVD and Blu-Ray Disc are both on their way in March.
Set in Australia on the brink of World War II, Lady Sarah Ashley, an English Aristocrat (Nicole Kidman), travels to the faraway continent where she has inherited a cattle ranch, owned by her late husband. When Australian cattle barons plot to take her land, she reluctantly joins forces with a rough-hewn local known as The Drover (Hugh Jackman) to drive 2,000 head of cattle across hundreds of miles of the country's most unforgiving land, only to still face the bombing of Darwin by the Japanese forces that had attacked Pearl Harbor. When tragedy strikes and Lady Sarah becomes unofficial guardian to a "half-caste" boy, the unlikely couple must come to terms with a prejudiced society, dishonorable business associates and the impending arrival of the Japanese.
Both versions will include Deleted Scenes and Behind-the-scenes Featurettes. The Blu-Ray version will carry a DTS-HD soundtrack.
Look for both to arrive on March 3rd.