Universal announces Flash Of Genius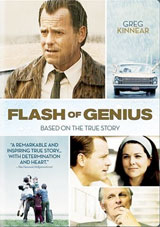 Universal Home Entertainment has scheduled Flash Of Genius for a February release, offering up director Marc Abraham's story of a simple idea, corporate greed and one man's struggle for justice against seemingly impossible odds on DVD.
Greg Kinnear stars as college professor and part-time inventor Robert Kearns who engages in a long battle with the US automobile industry to receive recognition for his ingenuity, his patented idea of an intermittent windshield wiper system for light rain and mist.
This determined engineer refused to be silenced and he took on the corporate titans in a battle that nobody thought he could win.
The release will feature an anamorphic widescreen transfer of the film in its original 2.40:1 widescreen aspect ratio, and complement it with a dolby Digital 5.1 audio track. No extras have been announced.
The highly acclaimed "Flash Of Genius" arrives on February 17 for $29.98.