The Pink Panther is coming. No, the real one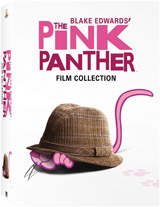 With respects to Mr. Steve Martin, the original Pink Panther is coming to Blu-ray and DVD in January with the 1964 film and loads of extras.
When the world's largest diamond "The Pink Panther" goes missing, royalty calls on the skills of the hilarious Inspector Clouseau. With only a forgotten glove as evidence, Clouseau must piece together the clues and win the diamond back for his country.
The disc will come with an Audio Commentary with Blake Edwards, the Featurettes The Pink Panther Story, Beyond the Feline: The Cartoon Phenomenon, The Coolest Cat in the Cortina: Robert Wagner, The Top Toe Life of a Cat Burglar: A Conversation with Former Jewel Thief Vill Mason and Diamonds: Beyond the Sparkle and a Trailer.
Good news to all from MGM Home Entertainment and 20th Century Fox Home Entertainment when this classic turns Blu on January 27th.