Saw V sheds blood in January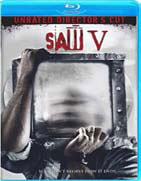 Lionsgate Home Entertainment has added the latest installment in the "Saw" franchise to their release line-up, giving Saw V a release slot in January.
Although Jigsaw may be dead, the horror continues in this latest installment of the series. Following Jigsaw's grisly demise, Mark Hoffman, the final apprentice to the serial killer is deigned a hero. Meanwhile, Agent Strahm is tested and puts the pieces together. While Strahm realizes that Hoffman is helping Jigsaw, five seemingly unconnected people face a horrible lesson about teamwork.
Lionsgate will release "Saw V" in two versions on DVD. The first one will offer the movi's Theatrical Cut in fullframe, while the second version will feature an unrated Director's Cut in anamorphic widescreen with 14 minutes of additional, wholesomely gruesome footage. The release will offer a Dolby Digital audio track and contain a series of bonus materials, such as two Commentary Tracks. The first one will feature first-time director David Hackl and first assistant director Steve Webb, while the second commentary features "Saw" movie franchise producers Mark Burg, Oren Koules, executive producer Peter Block and executive producer Jason Constantine.
The release will be rounded out by five Featurettes with titles such as "The Cube Trap," "The Pendulum Trap," "The Coffin Trap," "The Fatal Five" and "Slicing The Cube: Editing The Cube Trap."
The Blu-Ray version will offer only the Director's Cut of the movie in 1080p high definition with DTS 7.1 HD Master Audio. All the extras form the DVD version will be carried over in high definition resolution.
Gorehounds make sure to mark January 20 in your calendars and set aside $29.99 for the DVD versions, or $39.99 for the Blu-Ray version.