Ridley Scott's Body Of Lies hits the fan in February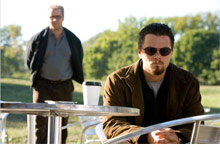 Ridley Scott's latest movie, Body Of Lies has made it onto Warner Home Video's release schedule on DVD and Blu-Ray disc in February.
Roger Ferris (Leonardo DiCaprio) is a covert CIA operative working in Jordan searching for terrorists who have been bombing civilian targets. Ferris uncovers information on the Islamist mastermind Al-Saleem (Alon Aboutboul). He devises a plan to infiltrate Al-Saleem's terrorist network with the help of his boss back in Langley, Ed Hoffman (Russell Crowe). Ferris enlists the help of the Chief of Jordanian Intelligence, Hani Salaam (Mark Strong) on this operation, but he doesn't know how far he can trust him without putting his life in danger. The uneasy alliance leads to a cultural and moral clash between the men.
Three DVD versions will be available, the first two will contain the widescreen and fullframe version of the film, respectively, without extras, and a Special Edition that will come with bonus materials and a Digital Copy.
The Blu-Ray version features a 1080p high definition transfer of the film's 2.40:1 widescreen presentation and high definition audio and combines it with a number of bonus materials, such as a Commentary Track featuring Director Ridley Scott, Screenwriter William Monahan, and Author David Ignatius. Also included are Deleted Scenes and the Featurette "Actionable Intelligence: Deconstructing Body of Lies" and an Interactive Debriefing feature. A Digital Copy of the movie will also be included.
"Body Of Lies" explodes into your living room on February 27 for $28.98 on DVD, $34.99 on Special Edition DVD and $35.99 on Blu-Ray Disc.