Prepare for a dose of Bottle Shock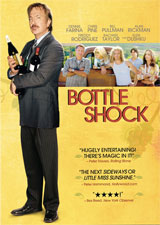 20th Century Fox Home Entertainment has added Bottle Shock to their DVD line-up, giving the title a February release date.
For connoisseur Steven Spurrier (Alan Rickman), there's no finer art than French wine, despite rumors that the new California wine country holds the future of the vine. Positive the small Napa wineries are no match for established French vintages, Spurrier challenges the Americans to a blind tasting. But when he finds the valley full of ambitious – and talented – novice vintners like Jim Barrett (Bill Pullman) and his son Bo (Chris Pine), he realizes his publicity stunt may change the history of wine forever.
The release will feature an anamorphic widescreen transfer of the movie, complete with dolby Digital 5.1 audio. As extras the disc will contain a Commentary Track by actors Bill Pullman, Chris Pine and Eliza Dushku, director/producer Randall Miller, writer/producer Jody Slavin, producer J. Todd Harris and writers Ross Schwartz and Lannette Pabon.
Also included on the disc will be the Making-Of Featurette An Underdog's Journey and the Featurette Chateau Montelena: One Winery's Search for Excellence. The disc will be completed by a selection of Deleted Scenes.
"Bottle Shock" arrives in stores on February 3 with a $27.98 sticker price.