Lionsgate lines up a Narrow Margin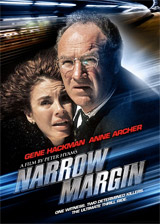 Lionsgate Home Entertainment has just added a new DVD version of the 1990 thriller Narrow Margin to their release line-up, bringing Peter Hyams' movie to DVD in March.
Academy Award winner Gene Hackman (The French Connection) stars as Robert Caulfield, a district attorney struggling to convince an unwilling murder witness (Anne Archer, Fatal Attraction) to testify against a top-level mob boss. When Robert narrowly saves his witness from the deadly grip of two hitmen, he takes his only escape – a Vancouver-bound train. But what Robert doesn't know is that the killers have boarded the train with them, setting into motion a deadly game of cat and mouse. Will Robert and his witness fall victim to the mob, or can they survive the next 20 hours and live to see the next stop?
Without extras, but with an unbeatable low price of only $9.99, this film can be yours when it arrives on March 3.