Lionsgate brings on Oliver Stone's W. in February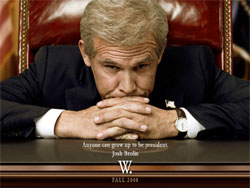 Lionsgate Home Entertainment has announced a February release of Oliver Stone's latest political film, W., taking a closer look at our current president and his many failures on DVD and Blu-Ray Disc.
Josh Brolin stars as George W. Bush in this Oliver Stone biopic that traces the head of state's rise to power from a privileged alcoholic to a born-again Christian whose belief in religious destiny helped move him to the top ranks of political power.
The DVD version will feature an anamorphic widescreen transfer of the film with Dolby Digital 5.1 audio. As bonus materials you will find a ,b>Commentary Track by Oliver Stone on the release, as well as a selection of Deleted Scenes. Two Featurettes entitled " Dangerous Dynasty: The Bush Presidency" and "No Stranger to Controversy: Oliver Stone's George W. Bush" will also be included.
The Blu-Ray version will offer up a 1080p high definition widescreen transfer of the movie and complement it with a DTS 7.1 HD Master audio track. You will find the same bonus materials on the release as on the DVD version, however, here they will be presented in high definition.
"W." will make its debut on February 10 and can be yours for $29.99 on DVD and $39.99 on Blu-Ray Disc.