His Name Was Jason arrives in February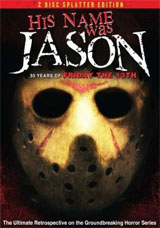 Anchor Bay Entertainment has added the retrospective His Name Was Jason to their release line-up on DVD, scheduling the film for release in February.
30 years ago, a small horror film gave birth to one of the most terrifying icons in horror history. FX legend Tom Savini is your host for the ultimate documentary on everybody's favorite hockey-masked momma's boy, featuring classic clips from every "Friday The 13th" movie, rare behind-the-scenes footage and over 80 interviews with filmmakers, actors, stuntmen, FX artists, journalists and fans.
The release will come as a 2-disc DVD with over 4 hours of bonus materials, although no exact details regarding the contents have been unveiled yet.
"His Name Was Jason" comes to a store near you on February 3 with a $19.97 sticker price.