HBO hands the microphone to Chris Rock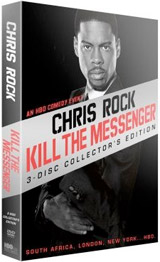 HBO Home Entertainment has added a DVD version of Chris Rock: Kill The Messenger to their January line-up.
Three-time Emmy-Award winner Chris Rock makes his triumphant return to HBO in his fifth solo stand-up performance "Chris Rock: Kill the Messenger, " a 90-minute special featuring footage from three of his international shows in New York, South Africa and the United Kingdom.
Now arriving as a 3-disc DVD set you can enjoy Chris Rock's comedy act also as he addresses hot button issues like race relations, the economy, poverty, parenthood and politics. The set will include the full live performance from Carnival City Casino in Johannesburg, South Africa, the performance from Carling Apollo Hammerstein in London, England and the full performance from Harlem's world famous Apollo Theater in New York City, New York.
The release also includes Behind-the-scenes Footage for all three events as well as a Conversation with Chris Rock. The release will further include a digital copy of the feature presentation for playback on your PC or mobile devices.
"Chris Rock: Kill the Messenger" will be in stores on January 20 for $29.98.