Clerks II comes to high def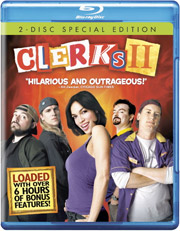 Genius Products has just added Kevin Smith's Clerks II to their line-up, bringing the incredibly crude comedy to Blu-Ray Disc in February.
Writer-director Kevin Smith returns to the scene of his cult comedy classic "Clerks" to pick up his nothing-is-sacred style of humor… and push it right over the edge! Ten years after the original, slacker heroes Dante (Brian O'Halloran) and Randal (Jeff Anderson) have become "funployees" at Mooby's fast food. In addition to offending customers and debating anything and everything, their responsibilities now include ragging on their uber-nerd co-worker (Trevor Fehrman) and teasing their sexy manager (Rosario Dawson). But when Dante announces his plan to leave New Jersey, Randal plots a shocking and hysterical going-away party that will alter their lives forever.
The release offers a 1080p high definition transfer of the movie with high definition audio. As extras, you will find all the materials from the DVD version on the disc, including the Commentary Track by Director Kevin Smith, Producer Scott Mosier, Director of Photography David Klein, and Actors Jason Mewes, Jeff Anderson, Trevor Fehrman, Brian O'Halloran and Jennifer Schwalbach.
Also included are the Podcast Commentaries, a selection of Deleted Scenes, and the Featurette A Closer Look at Interspecies Erotica. Of course ,the 90-minute Documentary Back to the Well: Clerks II is also included as well as the infamous 10 Train Wrecks Video Production Diaries.
"Clerks II" arrives in high definition on February 10 with a $39.95 price tag.