Warner upgrades Cronenberg's A History Of Violence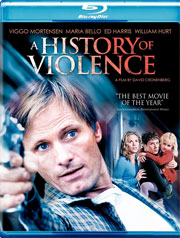 Warner Home Video has just added a Blu-Ray disc version of the David Cronenberg film A History Of Violence to their line-up, scheduling the disc for a February release.
In this thrill-packed actioner, a small-town diner owner, Tom Stall (Viggo Mortensen) finds himself a local hero after he successful takes down two thugs during an attempted robbery. But his sudden celebrity draws unwanted attention from the outside world, including mobsters Carl Fogarty (Academy Award® nominee Ed Harris) and Richie Cusack (Academy Award® winner William Hurt), who insist that Tom is intricately tied to their past. Fogarty begins stalking Tom's wife (Maria Bello) and children, resulting in a bloody standoff in which Tom must protect his family from what is either a case of mistaken identity or a violent past that's finally caught up with him.
Offering a 1080p high definition transfer and high definition audio, the bonus materials on the release will mirror the DVD version. You will find the Commentary Track by director David Cronenberg on the release as well as the Deleted Scene with commentary. The "Acts of Violence" Documentary is also included as well as the Featurette "The Unmaking of Scene 44." The Featurettes "Violence's History: U.S. vs. International Versions" and "Too Commercial for Cannes" will, of course ,also make a return on this release.
"A History Of Violence" is scheduled for release on February 10 with a $28.99 sticker price.