Warner is back in session with Night Court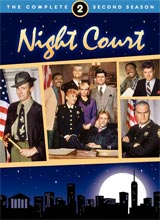 Warner Home Video has just added Night Court: The Second Season to their DVD line-up, scheduling the release for February.
Judge Stone and his motley crew of courtroom characters, including the unscrupulous and sexually charged district attorney Dan Fielding (John Larroquette), bailiff "Bull" Shannon (Richard Moll) and fellow bailiff Selma (Selma Diamond), return for a rollicking second season of dispensing justice to the assorted nuts of night court. Joining them in the courtroom this year are "Noo Yawk" savvy defender Billie Young (Ellen Foley) and Vietnam vet Mac Robinson (Charles Robinson), the court clerk.  Cases on the docket for Season Two include an invisible man, a mogul madman, a lovelorn nun, hookers, pickpockets, flashers, wackos, weirdos and gonzos.
The 3-disc DVD set will contain all 22 episodes of the show's second season and can be yours to own on February 3 for only $29.98.