Warner celebrates the 20th Anniversary of Tim Burton's Batman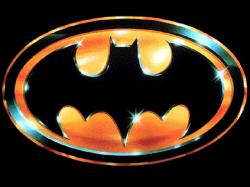 We just got word that Warner Home Video is preparing a 20th Anniversary Edition of Tim Burton's Batman on Blu-Ray Disc for release in March.
Jack Nicholson is the Joker, who emerged from a horrible accident as a maniacal criminal. Michael Keaton is the Caped Crusader, who emerged from a childhood trauma to become a masked crimefighter. Kim Basinger is Vicki Vale, the talented photojournalist desired by both men. And Batman is the movie, the all-out spectacular directed by Tim Burton, set to songs by Prince and a music score by Danny Elfman, and an Academy AwardO winner* for Best Art Direction/Set Decoration (Anton Furst and Peter Young).
No exact details or specs have been announced yet, but the release will comes as a 2-disc Digibook version, containing a BD-25 disc for the movie and a separate DVD for the bonus materials.
The release date for "Batman" is tentatively scheduled for March 31, but we'll keep you informed on any new developments of announcements we'll hear of.