Towelhead is among the December releases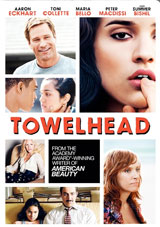 Warner Home Video has added Alan Ball's Towelhead to their December DVD line-up. Never heard of the movie? No worries, neither had I until this announcement, but the info sounds quite intriguing.
"Who are you?" Jasira Maroun's strict, Lebanese-born father asks. Jasira isn't sure. She's a typical 13 year old. And an Arab-American who's anything but typical to folks in her Houston suburbs. She's drawn to a boy at school. And to a hunky, married Army Reservist neighbor. She's curious about sex. And clueless about relationships. Then all these who are you's collide in a series of fateful, emotional, frequently funny events, and Jasira's life changes forever. Oscar and Emmy winning filmmaker Alan Ball and a fine cast headed by Aaron Eckhart, Toni Collette, Maria Bello and newcomer Summer Bishil combine talents in a fresh, honest coming of age story. Who is Jasira? The answer – and answers – may surprise you.
The release will feature an anamorphic widescreen transfer of the movie, complete with Dolby Digital 5.1 audio. As an extra you will find Towelhead: A Community Discussion on the release also.
"Towelhead" comes to DVD on December 30 and will carry a $27.95 price tag.