Sony loads up for Open Season 2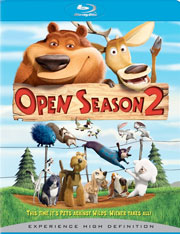 Sony Pictures Home Entertainment has added the animated feature film Open Season 2 to their release line-up, bringing this sequel to DVD and Blu-Ray Disc in January.
Boog (Mike Epps) and Elliot (Joel McHale) are back for more crazy adventures! After falling head over hooves in love with Giselle (Jane Krakowski), Elliot's road to the altar takes a slight detour when Mr. Weenie (Cody Cameron) is kidnapped by a group of pampered pets determined to return him to his owners. Boog, Elliot, McSquizzy (Billy Connelly), Buddy and the rest of the woodland creatures launch a full-scale rescue mission for their sausage-shaped friend and soon find themselves in enemy camp: the world of the pets. Led by a toy poodle named Fifi (Crispin Glover), the pets do not plan to let Mr. Weenie go without a fight.
No extras have been announced for these versions but we will keep you up to date as soon as new information comes in.
"Open Season 2" opens on January 27 with hunting licenses going for $28.95 on DVD and $39.95 on Blu-Ray.