Lionsgate is sending home The Lucky Ones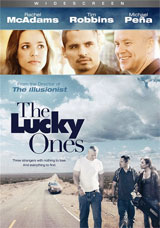 Lionsgate Home Entertainment has also a new title announcement, adding The Lucky Ones to their January list or DVD releases, the latest movie by the director who also brought us "The Illusionist."
After suffering an injury during a routine patrol, hardened sergeant TK Poole (Michael Pena) is granted a one-month leave to visit his fiance. But when an unexpected blackout cancels all flights out of New York, TK agrees to share a ride to Pittsburgh with two similarly stranded servicemen: Cheever (Tim Robbins), an older family man who longs to return to his wife in St. Louis, and Colee (Rachel McAdams), a naive private who's pinned her hopes on connecting with a dead fellow soldier's family. What begins as a short trip unexpectedly evolves into a longer journey. Forced to grapple with old relationships, broken hopes and a country divided over the war, TK, Cheever and Colee discover that home is not quite what they remembered, and that the unlikely companionship they've found might be what matters the most.
The DVD will feature a widescreen transfer of the movie and complement it with a Dolby Digital 5.1 audio track. Currently no bonus materials have been announced for the title but we will keep you posted if things change.
"The Lucky Ones" will hit the road on January 27 and can be yours for $27.98.