Lionsgate gives you a look at My Best Friend's Girl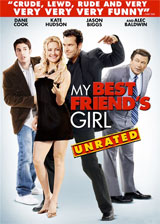 Lionsgate Entertainment has just announced the addition of the romantic comedy My Best Friend's Girl to their release line-up, preparing the title starring Kate Hudson, Alec Baldwin, Dane Cook and Jason Biggs on DVD and Blu-Ray Disc for January.
Smart, beautiful and headstrong, Alexis is the girl of Dustin's dreams. But after only five weeks of dating, the love-struck Dustin is coming on so strong that Alexis is forced to slow things down – permanently. Devastated and desperate to get her back, Dustin turns to his best friend, Tank, the rebound specialist. A master at seducing – and offending – women, Tank gets hired by freshly dumped guys to take their ex-girlfriends out on the worst date of their lives – an experience so horrible it sends them running gratefully back to their beaus. But when Tank works his magic on Alexis, he ends up meeting the challenge of a lifetime. Alexis is the first girl who knows how to call his bluff, and Tank soon finds himself torn between his loyalty to Dustin and a strange new attraction to his best friend's girl.
There will be two DVD versions, one offering the Theatrical Cut of the film, the other one featuring an Unrated Version, both width Dolby Digital 5.1 audio. No extras have been announced yet, but chances are there will be at least some minimal inclusions.
The Blu-Ray version will arrive only in the Unrated Cut, sporting a 1080p high definition transfer and high definition audio, such as a DTS 7.1 HD track and a Dolby Digital 5.1 track. No bonus materials have been announced for this version either.
"My Best Friend's Girl" will be in stores January 13 and can be yours for $29.95 on DVD or $39.99 on Blu-Ray.