It's Funny, right? Amusement is arriving in January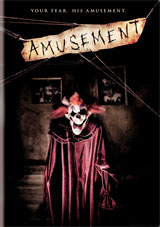 A film most of you have probably never heard of is coming straight to DVD and Blu-Ray Disc in January, courtesy of New Line Home Video. Prepare yourself for the horror thriller Amusement.
Three women are stalked by a killer with a grudge that extends back to the girls' childhoods.
Not a lot of information about the release has been announced, but for those who care for this straight-to-video flick, the film will arrive on January 20 with a 27.95 price tag on DVD and $35.99 on Blu-Ray.